Central banking and supervision in the biosphere
Central banking and supervision in the biosphere
This event brings together a high-profile panel of international central banks and supervisors to discuss the implications of biodiversity loss for their operations and next steps. The findings of the report of the Joint NGFS-INSPIRE Study Group on Biodiversity and Financial Stability will be presented, followed by a panel discussion.
The report investigates and strengthens the case for action to enable central banks and supervisors to not only understand the issues the planet is facing due to the unparalleled loss of biodiversity but also to define the actions that must be taken within existing mandates in the collective effort to address this vital challenge. The report sets out how financial risks stemming from biodiversity loss can have implications for financial stability and therefore the core objectives and policy frameworks of central banks and supervisors. The decline of ecosystem services as a result of biodiversity loss poses physical risks for economic and financial actors that depend upon those services.
Meet our speakers and chair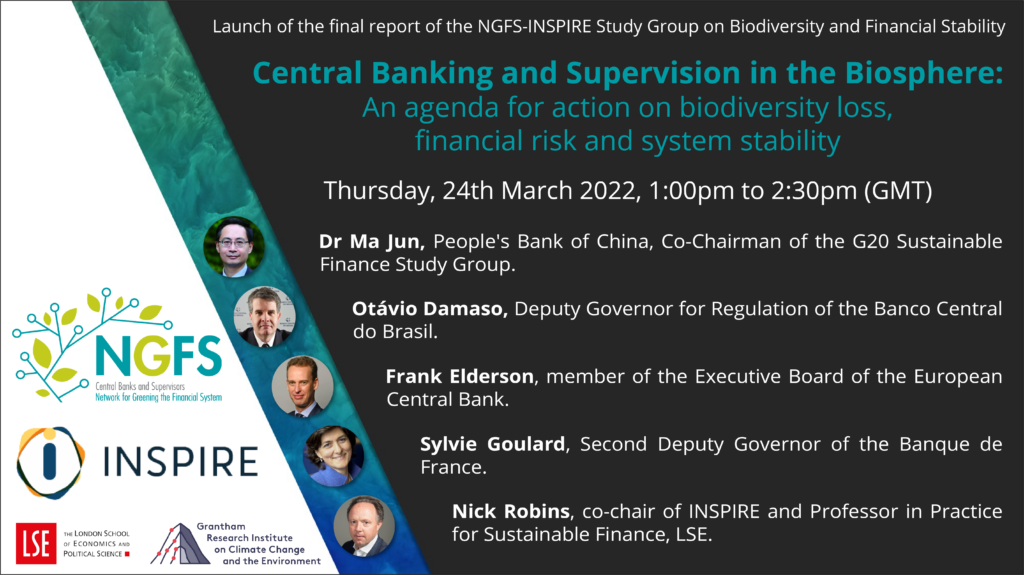 Ma Jun is an Economist of the People's Bank of China and currently the Chairman of the Green Finance Committee, China Society for Finance and Banking, President of Institute of Finance and Sustainability, Co-Chairman of the G20 Sustainable Finance Study Group, and the former member of the Monetary Policy Committee of the People's Bank of China.
Otávio Damaso is Deputy Governor for Regulation of the Banco Central do Brasil. He previously served as Chief of Staff to the Governor of the BCB and as Deputy Secretary for Economic Policy at the Ministry of Finance.
Frank Elderson is the former chair of the Network of Central Banks and Supervisors for Greening the Financial System. He co-chairs the Task Force on Climate-related Financial Risks of the Basel Committee on Banking Supervision. Frank Elderson is also a member of the Executive Board of the European Central Bank. He oversees the ECB's Legal Services and is Vice-Chair of the ECB's Supervisory Board.
Sylvie Goulard was appointed second deputy governor of the Banque de France by the Council of Ministers on 17 January 2018 and has carried out most of her career in European institutions.
Chaired by Nick Robins, Professor in Practice, joined the Grantham Research Institute in February 2018 as Professor in Practice for Sustainable Finance. Nick leads the sustainable finance research theme. The focus of his work is on how to mobilise finance for climate action in ways that support a just transition.